Vintage guitars for sale: Ibanez Bass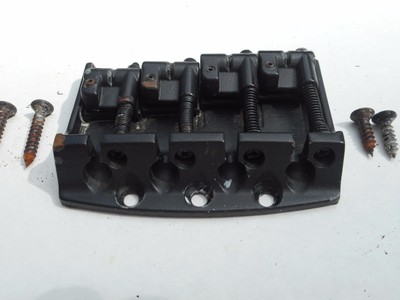 1980's Black Ibanez Accu-Cast BII 4 String Bass Bridge w / Mounting Screws!
FAYETTEVILLE, GEORGIA, 30214, USA
$85.00
For you consideration, a vintage black 1980's Ibanez Accu-Cast BII 4 string Bass Bridge. The bridge is fully functional and all adjustments turn and move freely. This bridge exhibits typical wear, rust and scratches consistent with 30 years of normal use. Original mounting screws are included. Free shipping via USPS Priority Mail in the continental U.S.. International shipping through Ebay's Global Shipping Program only. I accept payment through Paypal. I will accept returns. Buyer pays return ... more

Vintage 1980's Ibanez Roadstar RB800 Series Bass Neck Pickup!
FAYETTEVILLE, GEORGIA, 30214, USA
$60.00
For you consideration, a vintage 1980s Ibanez Roadstar RB800 series humbucker bass neck pickup. The pickup reads a whopping 18.15k ohms on my multi-meter. The pickup is completely original and the lead is over 7" in length. The complete set of original mounting hardware is included. Pickup shows typical wear, rust and scratches consistent with 30 years of normal use. Free shipping via USPS Priority Mail in the continental U.S. International shipping through Ebay's Global Shipping Program only. I... more
Load more results