Vintage guitars for sale: Gibson Thunderbird
The Gibson Thunderbird was designed by Roger Rossmeisl and debuted in 1963. Like Gibson's earlier trio of space-age designs (Explorer, Flying V and Moderne), it was perhaps a little too far ahead of it's time, and only sold in small numbers. After complaints from Fender it was redesigned in 1965, to feature a non-reverse body style, but again this version did not sell well. Like the forementioned trio, it came of age in the 1970s, and has arguably become Gibson's most icomic bass model, highly desireable amongst players and collectors alike.
What to look out for: By far the most desireable Tbirds are the original reverse body examples, produced between 1963 and 1965, especially in non-standard finishes (ie, not sunburst). Later 60s reverse body models are also highly prized (again, especially in custom colours. The 1976-1979 (bicentennial) reissues are also rapidly increasing in price. All three of these issues were produced in relatively small numbers. Post 1987 Thunderbirds are comparitively common, and whilst of little interest to collectors are still highly regarded work horses in rock bands wordwide.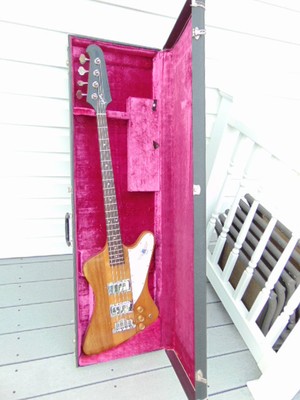 1976 Bicentennial Gibson Thunderbird bass with original H.S.C.
O'FALLON, MISSOURI, 63366, USA
$4200.00
For sale is an good condition Thunderbird. It's a true 1976, even though Bicentennials ran through 79. Have screws for bridge and pick up covers, but covers are gone. Pick guard is not faded, chrome is in great condition. There is no buckle rash, and comes in original hard shell case. Front strap button has been relocated at some point. A common thing to do on these basses. But it is back in its original position. There is what appears to be a heavy scratch along the side of the neck near the ... more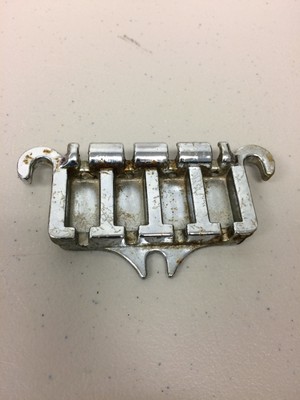 Gibson 3-Point Bridge 1970's Vintage USA Needs Saddles Thunderbird Ripper
BELLEVIEW, FLORIDA, 34420, USA
$69.00
Vintage 1970's Gibson 3-point bass bridge. All in good shape as pictured but please note there are NO SADDLES. Listing is for the bridge base only as pictured. Great vintage parts for your Thunderbird or Ripper bass from this era. Shipping to USA is $9.... more
Load more results