Vintage guitars for sale: 1950s Gibson Explorer
The Gibson Explorer was one of a trio of futuristic solid body guitars devised by Ted McCarty at Gibson in the late 50s (see also the Gibson Moderne and Flying V). At the time they truly were revolutionary; aswell as the exciting new shapes, they were solid body (itself quite new in the fifties), and not Gibson's usual mahogany, but limba - though Gibson called it Korina - and fitted with the brand new humbucking pickups.
Their looks were just too extreme for the guitar buyers of the time, and due to poor sales, they were soon discontinued, after a production run of just 22 instruments. As the years rolled by a number of well-known musicians picked up on these guitars, and they became more desireable, resulting in a number of reissues. Today these are highly desireable to guitar collectors; Vintage Guitar magazine lists the 1958 and 1959 Explorer as the most valuable vintage guitar of all time.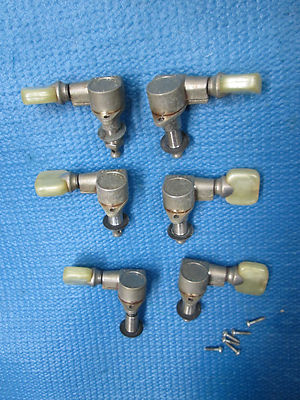 '50s Grover Rotomatic USA GIBSON EXPLORER Guitar Nickle Tuner Set PAT. PEND
WILMINGTON, DELAWARE, 19810, USA
$999.00
RARE 1st Version '50s Grover Rotomatic USA Guitar Nickle Tuner Set as used on 'V' Headstock Gibson Explorer! PAT. PEND.FLAT BACK!PEARLOID BUTTONS! Don't think you are going to see these for sale again anytime real soon! MEGA-RARE! Good / average condition. I've had them for over 30 years as part of a large lot obtained from a retired guitar repairman - always wondered what they were for. Imagine my surprise when I saw that book illustration (second pic)! Obviously you can also use the 3 bass ... more
Load more results